CrossMark Policy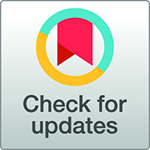 Crossmark Policy
Crossmark is a multi-publisher initiative from Crossref to provide a standard way for readers to locate the current version of a piece of content.
Starting January 2021 all IBJESB publications will carry a CrossMark icon that, with just one click on the CrossMark icon, readers will be able to see the status of a publication, viewing its complete history, tracking possible updates and corrections, retractions, or replacements. The Crossmark button will always be available on PDF publications, on the article page, and in other future formats that may become available such as Epub and HTML.
By applying the Crossmark logo, IBJESB is committing to maintaining the content it publishes and to alerting readers of changes if and when they occur.
Clicking on the CrossMark logo will tell you the current status of a document and may also give you additional publication record information about the document.
Update policies
It is the authors' responsibility to inform IBJESB of any updates or modifications that may be necessary.
IBJESB values science, the integrity of the editorial process, and of scientific publications and recognizes the inestimable value of authors, editors, reviewers, readers, and other collaborators that contribute to IBJESB's continued publication of research results. Thus, we seek to respect the scientific integrity and the editorial procedures in order to contribute to the maintenance of confidence in the published works. However, the updates accessible through the CrossMark icon are restricted to content published on the official IBJESB website as of January 2021, considering publications as of January 2021, but limited to publishing updates as indicated below.
addendum
clarification
correction
corrigendum
erratum
expression_of_concern
new_edition
new_version
partial_retraction
removal
retraction
withdrawal
REGEPE does not remove published papers.
For more information about CrossMark, please visit: www.crossref.org/crossmark