Entrepreneur Profile: The Case of Headless Mule
Keywords:
Administration, Entrepreneurship, Entrepreneurial Characteristics.
Abstract
This study case "The case of the 'mula sem cabeça' or 'headless mule'", a figure from Brazilian folklore, describes a problem situation of a young entrepreneur who achieved the objective of having his own retail outlet for a clothing brand with which he had a close and caring relationship for many years. After managing to open the store, in the main shopping center of the town of Balneário Camboriú, on the north coast of Santa Catarina, he faced the dilemma of whether to dedicate himself entirely to the role of business person, or whether to give up the company where he had worked for ten years. Contextually, there is still an imminent national economic crisis that could exacerbate the loss of income in the self-owned business, as well as his personal problems, in a property investment. The case was written as a teaching tool for use in the classroom on the topic of entrepreneurialism, and the characteristics of the entrepreneur.
Downloads
Download data is not yet available.
References
Dornelas, J. C. A. (2005). Empreendedorismo: transformando ideias em negócios. Rio de Janeiro: Elsevier.
Drucker, P. F.(1987). Inovação e espírito empreendedor. São Paulo: Pioneira.
Filardi, F., Barros, F. D., & Fischmann, A. A. (2014). Do homo empreendedor ao empreendedor contemporâneo: Evolução das características empreendedoras de 1848 a 2014. Revista Ibero-Americana de Estratégia, v. 13, n. 3, p. 123-140.
Martinelli, J. Comportamentos empreendedores. (2005) Disponível em: <http://www.duomoeducacao.com.br/Empreendedorismo-Corporativo/comportamentos-empreendedores.html>Curitiba>. Acesso em: 27 abr. 2016.
Silva, Jr. O. F. P. (2014). Empreendedorismo – a base do sucesso. Itajaí: Editora Univali.
Silva, T., Pereira, M. F., Costa, A. M., & e Hinterlang, C. (2013). Metodologia em voga no campo de empreendedorismo: emprego de métodos quantitativos para o estudo das características inerentes aos empreendedores. Revista Ibero-Americana de Estratégia – RIAE, v. 12, n. 4, pp. 181-209.
Ching, H. Y., & Kitahara, J. R. (dez/2015). Propensão a empreender: Uma investigação quantitativa baseada nas características empreendedoras de alunos do curso de Administração. Revista de Ciências da Administração, v. 17, n. 43, p. 99-111.
Lima F., Raimundo, N., & Bruni, A. L. (2015). Metacognição estimula características empreendedoras? Uma análise em profissionais de Administração. RACE, Unoesc, v. 14, n. 2, p. 427-450, maio/ago.
Sarkas, S. (2015). Empreendedorismo e Inovação. 2. ed. São Paulo: Escolar Editora.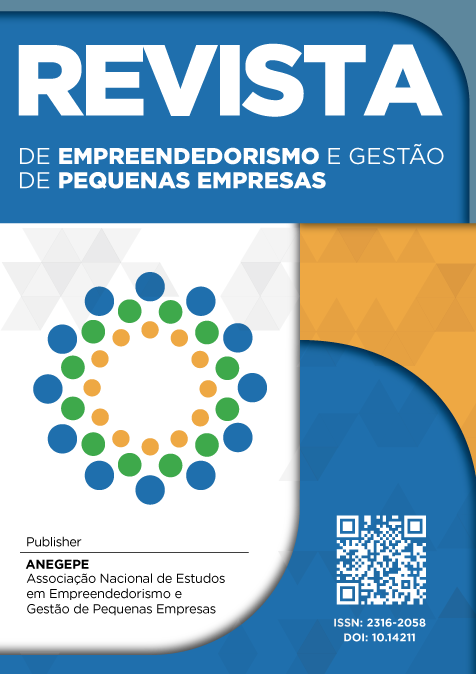 Downloads
How to Cite
Borba, J. F., Marinho, S. V., & Alberton, A. (2018). Entrepreneur Profile: The Case of Headless Mule. REGEPE Entrepreneurship and Small Business Journal, 7(1), 226–242. https://doi.org/10.14211/regepe.v7i1.448
License
Authors who publish with this journal agree to the following terms:
1. The author(s) authorize the publication of the article in the journal;
2. The author(s) ensure that the contribution is original and unpublished and is not being evaluated in other journal(s);
3. The journal is not responsible for the opinions, ideas and concepts expressed in the texts because they are the sole responsibility of the author(s);
4. The publishers reserve the right to make adjustments and textual adaptation to the norms of publication;
5. Authors retain copyright and grant the journal right of first publication, with the work after publication simultaneously licensed under a Creative Commons (CC BY 4.0) that allows others to share the work with an acknowledgement of the work's authorship and initial publication in this journal;
6. Authors are able to enter into separate, additional contractual arrangements for the non-exclusive distribution of the journal's published version of the work (e.g., post it to an institutional repository or publish it in a book), with an acknowledgement of its initial publication in this journal;
7. Authors are permitted and encouraged to post their work online (e.g., in institutional repositories or on their website) prior to and during the submission process, as it can lead to productive exchanges, as well as earlier and greater citation of published work (See The Effect of Open Access) at http://opcit.eprints.org/oacitation-biblio.html.