Autoria nos Artigos Científicos: Por que a Ordem Importa aos Pesquisadores
Keywords:
Artigos Científicos, Pesquisadores, Autoria nos Artigos
Abstract
O exercício no papel de editora chefe da REGEPE tem trazido experiências e aprendizagens inusitadas.  Ora por saber que há dificuldade da parte dos autores em acatarem a política editorial da revista, de aceitarem uma rejeição sem perder a esperança de que o artigo sempre pode ser melhorado, ora pela responsabilidade ao arbitrar o resultado de uma submissão.
Do outro lado, encontramos desafios no contato com os avaliadores, pessoas fundamentais no processo de editoração e guardiões da qualidade técnica-científica de nossa publicação. Essa atividade oculta, missionária e voluntária, embora tenha uma relevância incalculável, tem se tornado mais difícil a cada dia, não pela indisponibilidade ou comodismo, mas pela sobrecarga que todos nós, professores e pesquisadores vivenciamos no cotidiano de nossas atividades profissionais.
É inquestionável a pressão por publicação em periódicos de alto impacto a qual somos desafiados, em decorrência das avaliações dos programas e da demonstração da capacidade cientifica dos pesquisadores, que pode colocar em risco a empregabilidade...
Downloads
Download data is not yet available.
References
Biagioli, M., & Galison, P. (2003).Scientific Authorship: Credit and Intellectual Property in Science. New York: Routledge, 2003.
Maddox, J. (1994). Making publication more respectable. Nature, v. 369, pp. 353.
Marques, F. (2011). Hierarquia complexa. pesquisa FAPESP, n. 184.
Montenegro, M. R., & Alves, V. A. F. (1997). Critérios de autoria e co-autoria em trabalhos científicos. Acta Botanica Brasilica, 11(2).
Petroianu, A. (2002). Autoria de um trabalho científico. Revista da Associação Médica Brasileira, 48 (1), pp. 60-5.
Petroianu, A. (2010) Critérios para autoria e avaliação de uma publicação cientifica. Revista de Psiquiatria Clínica, 37(1), pp.1-5.
Volpato, G. L (2016). Autoria científica: por que tanta polêmica? Revista de Gestão e Secretariado. GeSec, São Paulo, v. 7, n. 2, p 195-210.
Yukihara, E. (2011). Qual deve ser a ordem dos autores de um artigo científico? Ciência Prática, n.13 (maio).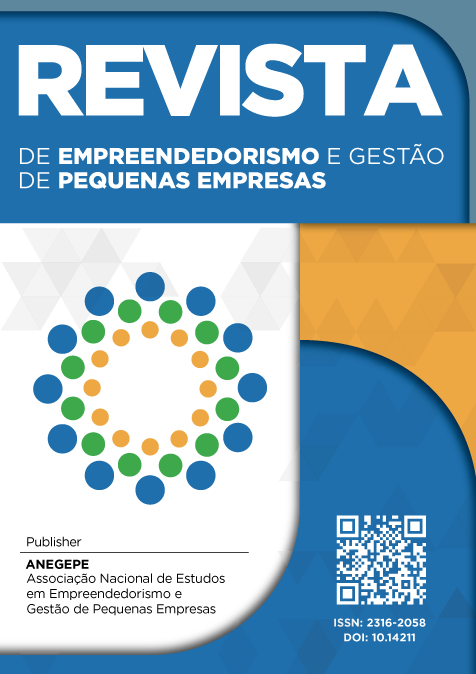 Downloads
How to Cite
Nassif, V. M. J. (2019). Autoria nos Artigos Científicos: Por que a Ordem Importa aos Pesquisadores. REGEPE Entrepreneurship and Small Business Journal, 8(2), 01–05. https://doi.org/10.14211/regepe.v8i2.1574
License
Authors who publish with this journal agree to the following terms:
1. The author(s) authorize the publication of the article in the journal.
2. The author(s) ensure that the contribution is original and unpublished and is not being evaluated in other journal(s).
3. The journal is not responsible for the opinions, ideas and concepts expressed in the texts because they are the sole responsibility of the author(s).
4. The publishers reserve the right to make adjustments and textual adaptation to the norms of APA.
5. Authors retain copyright and grant the journal right of first publication, with the work after publication simultaneously licensed under a (Creative Commons (CC BY 4.0) that allows others to share the work with an acknowledgement of the work's authorship and initial publication in this journal.
6. Authors are permitted and encouraged to post their work (Submitted version, Accepted version [Author Accepted Manuscript], or Published version [Version of Record]) online, e.g., in any repository, Any website or Author's homepage , as it can lead to productive exchanges, as well as earlier and greater citation of published work. The REGEPE ask as policy conditions for the Authors to: Must link to published article with DOI. See the Effect of Open Access at: http://opcit.eprints.org/oacitation-biblio.html