Editorial v.7, n.3, 2018
Abstract
Prezados leitores,
 Apresentamos a última edição de 2018 da Revista de Empreendedorismo e Gestão de Pequenas Empresas - REGEPE. Esta edição traz oito trabalhos na seção de Artigos Científicos, um trabalho na seção de Casos para Ensino, um artigo na seção de Contribuições Internacionais e estreamos a seção de artigo tecnológico, apresentando uma experiência real muito interessante. Os artigos envolvem temas distintos, proporcionando muita aprendizagem e mostrando diferentes olhares para as pesquisas na área de Empreendedorismo e Gestão de Pequenas Empresas.
Downloads
Download data is not yet available.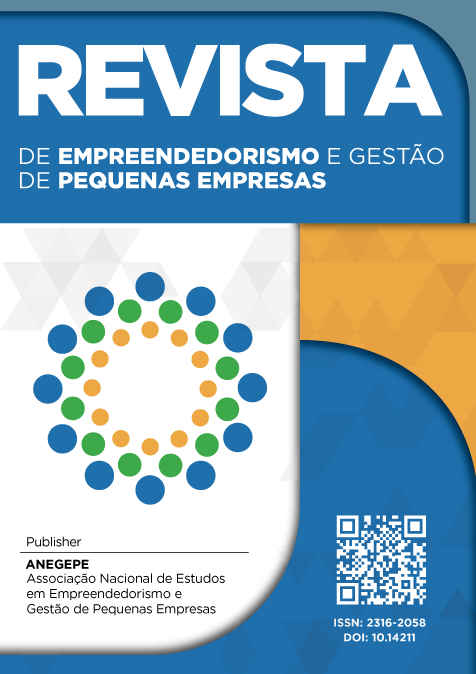 Downloads
How to Cite
Nassif, V. M. J. (2018). Editorial v.7, n.3, 2018. REGEPE Entrepreneurship and Small Business Journal, 7(3), I-V. Retrieved from https://www.regepe.org.br/regepe/article/view/1323
License
Authors who publish with this journal agree to the following terms:
1. The author(s) authorize the publication of the article in the journal.
2. The author(s) ensure that the contribution is original and unpublished and is not being evaluated in other journal(s).
3. The journal is not responsible for the opinions, ideas and concepts expressed in the texts because they are the sole responsibility of the author(s).
4. The publishers reserve the right to make adjustments and textual adaptation to the norms of APA.
5. Authors retain copyright and grant the journal right of first publication, with the work after publication simultaneously licensed under a (Creative Commons (CC BY 4.0) that allows others to share the work with an acknowledgement of the work's authorship and initial publication in this journal.
6. Authors are permitted and encouraged to post their work (Submitted version, Accepted version [Author Accepted Manuscript], or Published version [Version of Record]) online, e.g., in any repository, Any website or Author's homepage , as it can lead to productive exchanges, as well as earlier and greater citation of published work. The REGEPE ask as policy conditions for the Authors to: Must link to published article with DOI. See the Effect of Open Access at: http://opcit.eprints.org/oacitation-biblio.html