POLÍTICA NACIONAL DE CIÊNCIA, TECNOLOGIA E INOVAÇÃO: AVALIAÇÃO DO MARCO REGULATÓRIO E SEUS IMPACTOS NOS INDICADORES DE INOVAÇÃO
Keywords:
Inovação, Política Nacional, Marco Regulatório, Indicadores, P&D.
Abstract
Este artigo examina os possíveis impactos da Política Nacional de Ciência, Tecnologia e Inovação, especialmente no que se refere a uma parte do seu marco regulatório, nos indicadores do processo inovativo. Trata-se de estudo geral, não se atendo ao exame explanatório e pormenorizado da legislação aplicável, tampouco de análise aprofundada dos índices escolhidos como referência. São observadas, através dos dados atualizados, tão somente as prováveis relações entre duas das principais normas que cuidam do tema, Lei da Inovação e Lei do Bem, e um dos indicadores de inovação mais utilizados: investimento em Pesquisa e Desenvolvimento, particularmente o dispêndio privado em P&D. Diante de indícios que, a partir da vigência do marco regulatório em epígrafe (2004 em diante), apontam para a majoração do indicador selecionado, este estudo busca avaliar a evolução dos investimentos em Pesquisa e Desenvolvimento de 2005 a 2009. Os resultados da pesquisa demonstram que houve confirmação das hipóteses sob análise, pois, a partir da vigência das leis em estudo, verifica-se evolução positiva dos investimentos privados em P&D.
Downloads
Download data is not yet available.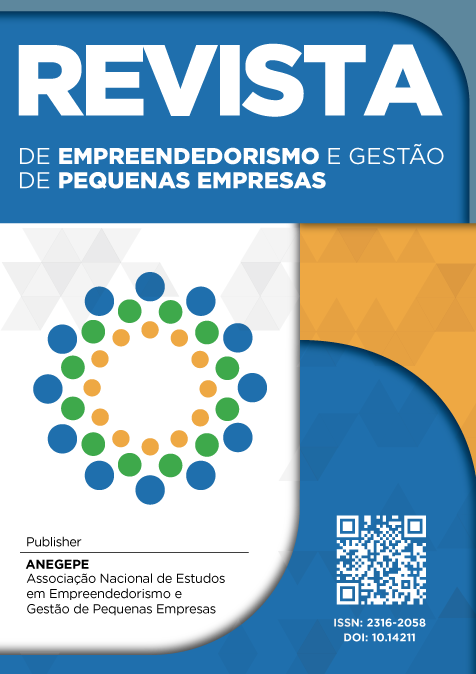 Downloads
How to Cite
Mendes, D. R. F., de Oliveira, M. Ângelo C., & Pinheiro, A. A. (2013). POLÍTICA NACIONAL DE CIÊNCIA, TECNOLOGIA E INOVAÇÃO: AVALIAÇÃO DO MARCO REGULATÓRIO E SEUS IMPACTOS NOS INDICADORES DE INOVAÇÃO. REGEPE Entrepreneurship and Small Business Journal, 2(1), 22–46. https://doi.org/10.14211/regepe.v2i1.49
Section
Research Articles
License
Authors who publish with this journal agree to the following terms:
1. The author(s) authorize the publication of the article in the journal.
2. The author(s) ensure that the contribution is original and unpublished and is not being evaluated in other journal(s).
3. The journal is not responsible for the opinions, ideas and concepts expressed in the texts because they are the sole responsibility of the author(s).
4. The publishers reserve the right to make adjustments and textual adaptation to the norms of APA.
5. Authors retain copyright and grant the journal right of first publication, with the work after publication simultaneously licensed under a (Creative Commons (CC BY 4.0) that allows others to share the work with an acknowledgement of the work's authorship and initial publication in this journal.
6. Authors are permitted and encouraged to post their work (Submitted version, Accepted version [Author Accepted Manuscript], or Published version [Version of Record]) online, e.g., in any repository, Any website or Author's homepage , as it can lead to productive exchanges, as well as earlier and greater citation of published work. The REGEPE ask as policy conditions for the Authors to: Must link to published article with DOI. See the Effect of Open Access at: http://opcit.eprints.org/oacitation-biblio.html